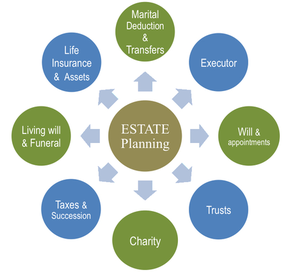 Estate Planning
Estate planning involves deciding how you want your assets distributed after you die (or become unable to make your own financial decisions). Estate planning can be complicated. In estate planning, Trusts can be established to easily transfer assets to heirs. With the right set-up, assets in a Trust can avoid
Probate
and taxation, and immediately pass from the original owner to the
heirs
.
​
It's important to have a basic estate plan in place regardless of your net worth. Although it may seem like a morbid chore, estate planning offers several benefits:
You get to name the people to whom you wish to give your assets - and your wishes will be legally binding.
You can arrange it so that taxes siphon as little as possible from your estate.
You have the satisfaction of knowing that your financial affairs are in order, so you won't bequeath a costly administrative nightmare to your loved ones.
​An estate plan can include several elements:
A will
Assignment of power of attorney, which gives the person you name the authority to manage your financial affairs if you are unable to do so
A living will, which is a statement of your wishes for the kind of life-sustaining medical intervention you want, or don't want, in the event that you become terminally ill and unable to communicate
A healthcare proxy, which authorizes someone you trust to make medical decisions on your behalf.
A living will is a legal document that allows you to express your wishes to doctors in case you become incapacitated. In a living will, you can outline whether or not you want your life to be artificially prolonged in the event of a devastating illness or injury.
A living will is often combined with a "health care proxy," which allows you to designate someone to make health care decisions for you if you become incapacitated. The living will and the health care proxy together make up what's called an "advanced health care directive.
​
A carefully designed estate plan provides security and structure for your loved ones and minimizes federal and state death taxes. Estate planning through our firm help families plan for the future. Our professionals can guide you through comprehensive estate plans that may include:
Establishing trusts
Reducing taxes
Drafting a last will and testament
Creating a special needs trust
Arranging for guardianship of loved ones
A personally tailored estate plan that fits your needs
No single tool or formula fits every family's unique circumstances or satisfies each client's personal needs. You may require only a simple will, for which we charge a reasonable flat rate to draft. To protect minor children, we design a plan that includes naming guardians and setting up trusts that provide for their financial welfare. If your family includes a member with a disability, we can structure a special needs trust to protect your loved one. Our professionals develop sophisticated tax strategies to access tax deductions, exclusions and exemptions during your life and save your family death taxes after you pass.
Bypass or A-B Trust
​Married couples can maximize the use of both of their federal exemptions from estate taxes by using AB Trusts as part of their estate plan. The AB Trust system can be set up under the couples' Last Will and Testaments or Revocable Living Trusts. The "A Trust" is also commonly referred to as the "Marital Trust," "QTIP Trust," or "Marital Deduction Trust." The "B Trust" is also commonly referred to as the "Bypass Trust," "Credit Shelter Trust," or "Family Trust."
AB Trusts and Portability of the Estate Tax Exemption
​
Note that beginning in 2011, the federal estate tax exemption was made transferable between married couples. This is referred to as "portability of the estate tax exemption" and means that if one spouse dies in 2011 or later and his or her entire federal estate tax exemption is not needed to avoid estate taxes, then the unused portion of the deceased spouse's estate tax exemption can be added to the surviving spouse's estate tax exemption. This, in essence, means that in 2016 a married couple will be able to pass on up to $10,900,000 to their heirs free from federal estate taxes without the need to use AB Trust planning. The survivor doesn't automatically have the right to use the deceased spouse's leftover exemption; the surviving spouse must file an estate tax return when the first spouse dies, even though no tax is owed.
The Types of Trust Funds for a MinorChoosing a Trust
Faced with a confusing array of types of trusts, prospective grantors should consult an attorney for advice on which type best carries out the grantor's intentions as well as providing the best tax advantages. An irrevocable children's trust -- a Section 2503 Minor's Trust -- isn't part of the contributor's taxable estate, and creditors can't seize property in the trust. Avoiding the annual gift tax is one advantage of creating a trust for a minor. While setting up a trust for a child doesn't automatically qualify for the annual gift tax exclusion, two types of trusts do qualify for that exclusion: the Section 2503(b) and Section 2503(c) trusts. They are named for the Internal Revenue Code provision in which they were created.
Section 2503(b) Trust
This type of trust requires that income must be distributed to the child at least once a year. If the child is still very young, the income can be transferred to a custodial bank account. The child could also be allowed to withdraw a sum equal to the annual gift tax exclusion. The child's parent decides whether the child should be allowed to make this withdrawal. This type of trust doesn't require access at the age of 21, and the principal can continue to be held in the trust as long as the parents wish.
Section 2503(c) Trust
A Section 2503(c) trust allows all the principal and income to be used for the child until he reaches the age of 21, unlike the 2503(b) trust that extends beyond age 21 and requires income to be paid to the child annually. The trustee can pay the child's college expenses from the 2503(c) trust. When the child turns 21, all the money remaining in the trust must be turned over to him, unless he decides to extend the trust. Before choosing this trust, the grantor should consider whether the child would be mature enough at 21 to handle the money responsibly.
Testamentary TrustA testamentary trust could be appropriate for grandparents as well as parents because it is part of the grantor's will. It takes effect after the grantor dies and specifies the amount of money to be included. The testamentary trust takes the place of specific bequests and defines how the money must be used -- specifically for education, for example.
---